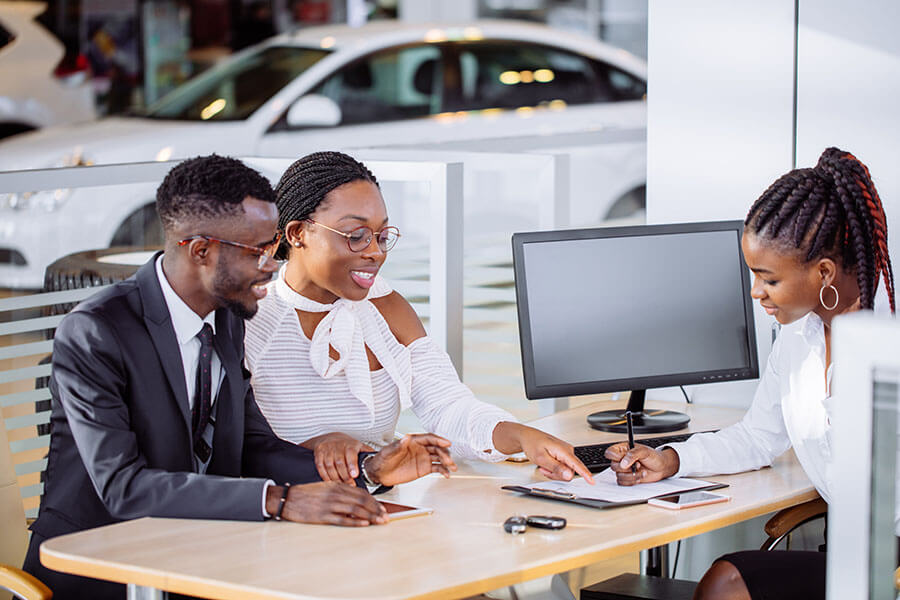 Refinancing your auto loan is a simple way to get a lower APR or change your term so you have the right monthly payment for your changing financial situation.
To do an auto loan refinance, you follow similar steps as when you took out your original auto loan. Before you apply, you can use an auto loan refinance calculator to figure out how much you can benefit. Read on for full details about how to refinance an auto loan.
What Is an Auto Loan Refinance?
An auto loan refinance means you take out a new auto loan, often with a different lender. You then use the new loan to pay off the old loan.
With your new auto loan, you might qualify for a lower annual percentage rate (APR) than before. Depending on your finances, you might choose to shorten or extend your loan term.
You may be given a few months when you don't have to make any payments. After that period, you start making monthly payments on your new loan until it's paid off in full.
When It Makes Sense to Do an Auto Refinance
You might want to consider doing an auto loan refinance if these points are true for you:
You're around the mid-point of your loan term so you still have a lot of time to benefit from any changes.
Your credit is in better shape than when you took out your original loan so you may qualify for a better APR, which will save you money on interest each month.
Market interest rates have significantly dropped since you took out your loan.
Your finances have improved so you want to shorten your loan term and pay your loan off faster.
You're struggling to make your monthly payments and want to extend your loan term to make your auto loan more affordable.
Your car has gained value (appreciated) and you want to use your new auto loan to cash out the positive equity.
You don't like your current lender and want to form a good relationship with another financial institution, such as your local credit union.
When a Refinance Might Not Work for You
A refinance may not work if these situations are true for you:
You're at the very beginning of your auto loan term so you may not yet qualify for a new loan and your credit score might not have had time to recover from the hard credit check during your application.
You're near the end of your auto loan term so it may not be worth the paperwork and fees to refinance.
Your credit hasn't improved – or it's got worse – since you took out your original loan so you may not qualify for a better APR.
Your car is more than 10 years old so it might be difficult to find a new lender.
Your car has lost a lot of its value (depreciated) so you might be underwater on your loan and need to roll over negative equity into a new auto loan.
Rolling over negative equity can be very costly unless you have the cash to pay the difference in value between your loan amount and what the car is worth.
What to Look For in an Auto Refinance Loan
Not all auto loans are equal. If you're wondering how to refinance an auto loan, the first thing to do is take the time to shop around and read up on different offers. That way, you'll have more chance of finding a new auto loan that's much better than your current loan.
Here are a few features to look for when choosing your new auto loan:
A lower APR than what you're paying now
An interest rate discount on the APR you qualify for
A wide range of terms so you can select the one that will work best for you
An introductory period when you don't have to make monthly payments
No prepayment penalties in case your finances change and you can pay off the loan earlier than planned
A financial institution you like and trust
How to Use an Auto Loan Calculator
An auto refinance calculator lets you play around with all the different numbers that go into a loan so you can find an affordable monthly payment for you and your family.
To use the calculator, just enter the amount of your current auto loan and then try out different loan terms to see how they affect your monthly payment.
You can estimate your interest rate based on what you're paying now – or you can get pre-approved to find out what APR you're likely to get for your new loan, which will be based on your current credit score.
How to Refinance Your Auto Loan
Now that you've seen the benefits of an auto loan refinance, it's time to take the next steps toward applying. Just like with your original auto loan, you need to gather all your personal information and financial documents to prove you're eligible.
Documents Needed for an Auto Refinance
Your ID and proof of address
Your tax returns and proof of income
Information about the vehicle, like purchase agreement, registration, and title
Car insurance details
Easy Application Steps
You can choose whether to get pre-approved with multiple lenders, or just your favorite financial institution. Luckily, your credit score will only be dinged once if you apply for the same type of loan with many lenders in a short period.
Once you've chosen your ideal lender, the application and loan process is simple:
Apply online or visit your local branch
Provide the information and documents mentioned above
Agree to the loan amount, APR, and term – then sign the paperwork
Your new lender may pay off your old loan for you or give you a check to do it
Start making monthly payments on your new loan on the agreed date
Auto Loan Refinance With the Best Lender for You
Besides saving money, one of the main reasons people choose to do an auto refinance is because they're unhappy with their current lender. Shop around and you'll probably find that your local credit union offers lower rates on loans, higher yields on savings, and kinder service.
Excite Credit Union is proud to serve people like you in a few of the best counties in California and North Carolina. Click below to find out how we can make your life better!
CREDIT UNION AUTO LOAN BENEFITS YOU WON'T GET FROM A BANK